CNC MACHINING SERVICES
At Norwood Screw Machine Parts we offer precision CNC Machining Services producing custom parts for all industries.
Description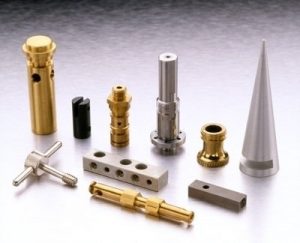 Our facility Is equipped with a number of advanced CNC machining centers including equipment for CNC milling, drilling, turning and CNC Swiss turning. Turning techniques include contour, form, taper, straight, counterboring, countersinking, profiling, reaming, facing and threading. Our equipment is state of the art and includes machines from HAAS, Protrak, Daewoo and Okuma. We operate vertical milling centers with 2 and 4 axis rotary tables and turning centers with bar feeders that further enhance efficiency. The diversity of these systems allow us to work with materials such as brass, stainless steel, carbon steel, alloy steel, aluminum, aircraft aluminum and plastics. We can accommodate work pieces up to 24″ in length and diameters from .010″ to 3″ all to tolerances of +/-.001″. In addition we can also provide compliance with a number of industry standards and specifications including ASME, ASTM, Mil-Spec, AS, ANSI, SAE and RoHS.